We are the Lehigh Valley and Poconos choice for party rentals. We specialize in inflatable rides, games, tents, tables, chairs & much more!
Your PA party and Event Specialist
Keeping Your Family Safe!
We honor and value your trust in our service and equipment. We are dedicated to providing our customers with properly cleaned and sanitized rentals each and every time.
Sweep
All Dust, Dirt, & Debris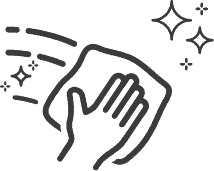 Deep Clean Unit
with Cleaner & Sanitizer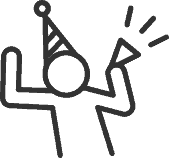 Clean, Sanitized &
Ready for Fun!
Thank you for visiting Metz Amusements and Concessions.
We provide party rentals to the Lehigh Valley, Poconos, and beyond. Some of the items we provide include:  Over 100 inflatable attractions, a large assortment of games, tents in a variety of sizes, tables of different sizes, 3,000 chairs in different styles and colors, grills (gas or propane), a large assortment of concession machines, linens, rock climbing wall, and so much more!
*Before you rent inflatables elsewhere verify they are licensed, insured, inspected and registered with the state of Pennsylvania. Many companies offering lower prices are not compliant with these regulations and could be putting your family and guest safety at risk.*
We are located in Wind Gap, Pennsylvania. Our company is found in the Slate Belt area, which borders the Poconos and Lehigh Valley. We offer delivery to Allentown, Bethlehem, Easton, Nazareth,  Stroudsburg, East Stroudsburg, Tannersville, and most places in Northeast Pennsylvania. This includes Northampton County, Lehigh County, Monroe County, Berks County and other nearby counties.
IF YOU DON'T SEE YOUR CITY, JUST GIVE US A CALL AS WE STILL MAY BE ABLE TO ACCOMMODATE YOUR NEEDS.
Bounce house rentals Allen Town, PA are taking the world by storm. People often don't know what to call them though: bounce house, moonwalks, jumpers, bouncers, bouncy house, jump house or even a kids party inflatable thing. We call them FUN! We have a great selection of inflatables, including all of your favorite characters and many different themes to coordinate with your event. Who wouldn't want to make their children's birthday party the best on the block? These are popular for block parties, church and school events, and for any function where you have children who like to jump and bounce! We are the best option for all things Party Rental in Pennsylvania. 
We also have inflatable slides and water slide rentals in PA. Our inflatable slide selection includes attractions for younger children, but also 22′ high slides for the more daring children and adults. Water slides are a must have in the summer months for those graduation parties, family reunions, church events, and just for some backyard fun!
Our obstacle course rentals range from 30′ to 95′ in size. Our larger obstacle courses are a hit for high school and colleges. Consider an inflatable obstacle course for your next event.
Our carnival games are a great addition to your event with those bounce houses and inflatables. We have many sports themed inflatable games such as All in One Sports, Quarterback Blitz, Full Court Press, Skee-ball, Mini Basketball and Baseball. We also have many wheel games to choose from. No party is complete without a few games!
Another party/ event favorite is a Dunk Tank Rental from Metz Amusements!!! We have 5 dunk tanks in stock. Our dunk tanks are all the newer style with more safety and reliability features built in. Dunk tanks can be delivered or customer pick up,  as long as you have a 2″ball hitch to tow it. Dunk tanks and water games are certainly a hit at fundraising events!
Our tents, tables, and chairs are a necessity for those backyard parties. We offer several size tents, a variety of table and chair options, and we also have tent lights and walls that can be added to our tent packages.  These are necessities for your birthday, graduation, and wedding events.
We offer concession machine rentals in PA including: popcorn machines, sno-kones, cotton candy, hot dog rollers, grills, and other items to complete your event.
The Best Party Rental Equipment Options
Below Are A Few Pennsylvania Towns We Service
Party Rentals Lehigh Valley PA
Top-notch Party rentals in Lehigh Valley PA is what we do best. We offer our whole selection of party rental equipment in Lehigh Valley PA. This list includes Bounce house rentals, Tents, Tables & chairs along with many more party rental items. Metz Amusements and Concessions has been Lehigh Valley PA's Number 1 option for party rentals for years. View Inventory Below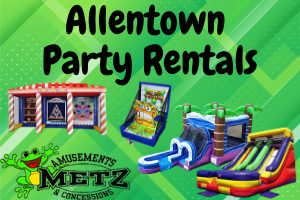 In need of a party rental company in Allentown PA? Metz Amusements will be the perfect place to book with. Allentown PA offers the perfect spots to set up for any Party Rental Needs. Check out our Tent Rentals in Allentown PA along with our water slide rentals that are an excellent addition to any Allentown party rental. View all party rental items below!
If you are in Easton PA, you can trust Metz Amusements to bring the best Water slide rentals and tent rentals or even concessions for your next party rental. Metz Amusements has serviced Easton PA Party Rentals for over 15 years.  After checking out our water slide rentals, make sure to view our concession machines. These concession machines are the perfect addition to a party rental.
East Stroudsburg Party Rental
Check out our perfect additions for your next East Stroudsburg Party Rental. We got water slide rentals, bounce houses, Tents-Tables-Chairs and so much more! Metz Amusements is ready to serve you with some of the coolest carnival games, Inflatable slides, or even our popular bounce house rentals in East Stroudsburg PA. Click the link below to view our rental equipment for Pennsylvania. We can't wait to bring you the best bounce house and water slide rental in PA.
Why not check out our fantastic options for your Amusement Supply Company with Metz Amusements. Our grand selection of water slide rentals, bounce houses, Tents-Tables-Chairs, and Carnival games are sure to keep the kids busy all day. Metz amusements don't just do birthday parties. We also do corporate events, baby showers, or Bridal showers. Whenever you need an Amusement Supply Company, think "METZ". Check out our available Party rental items below.
Party Rentals In Bethlehem PA
Water slide rentals are a super good idea for any Party Rentals In Bethlehem PA. If you are going to rent FUN, check out Metz Amusements because we are the #1 party rental company that delivers to Bethlehem PA. Don't worry, we don't just offer the best bounce house rentals, we also have inflatable slides, concession, a full line of tents, tables, and chairs. No matter what the need is for a Party rental In Bethlehem PA is, METZ has you covered. Click below to see our party rental items.